The PerfectCare Aqua is a steam generator iron made by Philips. My model GC8620 had a strange problem: it would heat up the iron and I could hear the steam chamber heating up also, but when I pressed the trigger on the iron (after the steam chamber made no more noise and it was at the right temperature), the pump would not work. No water being pumped to the steam chamber meant no steam 🙁
Let's dig deeper and try to find the culprit and repair this…
The printed circuit board looked very clean, no discolorations or defective looking components. The solder side (underside) is coated with conformal coating, not a stupid idea, water and electricity are not friends.
When I bridged the blue wire coming from the pump (point 9008 Blue Wire Pump Ctrl) to neutral (point 9003 Flex Neutral), the pump worked, so I suspected it had to be the board.
The Service Manual is not very helpful, it only indicates part 39 as the Power board PCB-Pump service kit with service code 4239 022 67101. The PCB has marking FLORIDA CONTROL BOARD V3). The power board is sold together with the pump for about €80. You can also get the board alone (423902267101) for about €65, but still a bit pricey if probably only one simple component on the board is defective!
When I measured the DC voltages on the board I noticed the 5V rail sagging frequently to about 3,5V and the 54V rail sagged to about 21V. Before going down the rabbit hole and looking for a defective component suspect of pulling the voltage supply down, I decided to take a closer look to at the power supply circuitry.
The DC power supply is made up of a simple capacitive dropper: Resistor 3001 (56R) in series with capacitor 2002 (0,47µF) is being rectified  via diode 8001 to buffer capacitor 2003 (100µF). I desoldered capacitor 2002 and bingo: I measured only about 100nF and that is not OK.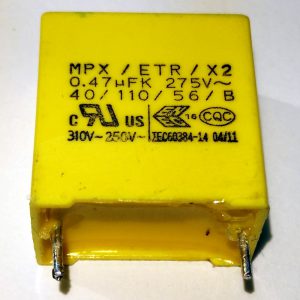 After replacing capacitor 2002 with a new one, the pump worked again! I decided to go for a Würth Elektronik 890334025039CS: 0,47µF X2 310V (in stead of the 275V original). Make sure you get an X2 MKP (Metallized Polypropylene Film).
This solution should also apply to other Philips PerfectCare Aqua models:
GC8615/02
GC8630/02
GC8635/02
GC8620/02
GC8622/20
GC8636/02
GC8640/02