The Cisco SPA112 is an Analogue Telephone Adapter, you can configure this device to enable internet telephony (VoIP) for up to two analogue telephones.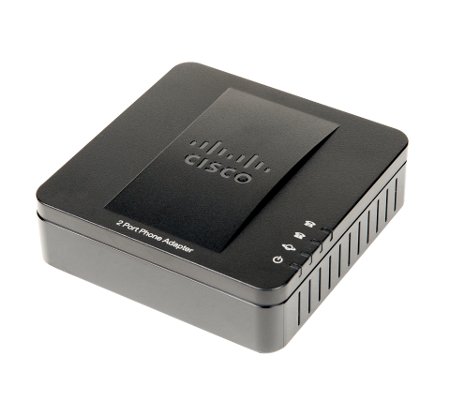 After plugging in the power, ethernet cable and analogue telephone, you can check the DHCP status of your internet (Wi-Fi) router for the IP-address of the SPA112. I actually used the Network Discovery Android app to discover the device on my home network.
Now we have found the IP-address, let's configure this puppy…
Administration Setup
The default login and password are admin and admin. Skip the Quick Setup and change the password via Administration > Management > User List. Change the password for the cisco user as well.
I downloaded the latest firmware from cisco.com. Make sure you read the Release Notes included in the downloaded ZIP file before flashing the device via Administration > Firmware Upgrade. My version is 1.3.5 (004p_XU001).
Via Administration > Management > Web Access Management, I changed the Web Utility Access from HTTP to HTTPS. This made the web interface inaccessible and I had to perform a factory reset. As I only will be accessing the SPA112 via the LAN, I guess it is better to leave this setting on HTTP.
Network Setup
Via Network > Basic Setup > Internet Settings I changed the Connection Type from DHCP to Static IP. I set the right time settings Network > Basic Setup > Time Settings. I did not change any of the Advanced Settings.
Voice
Go to Voice > Line 1.
f you are behind a NAT Router (you probably are) then it is recommended to enable NAT under NAT Settings:
NAT Mapping Enable:        Yes
NAT Keep Alive Enable:     Yes
Proxy and Registration
Proxy: voip.3starsnet.com
Subscriber Information
Display Name: 3starsnet
User ID: <your 3starsnet telephone number>
Password: <your 3starsnet password>
Backup Configuration
Go to Administration > Config Management >  Backup Configuration and save a backup on your PC.